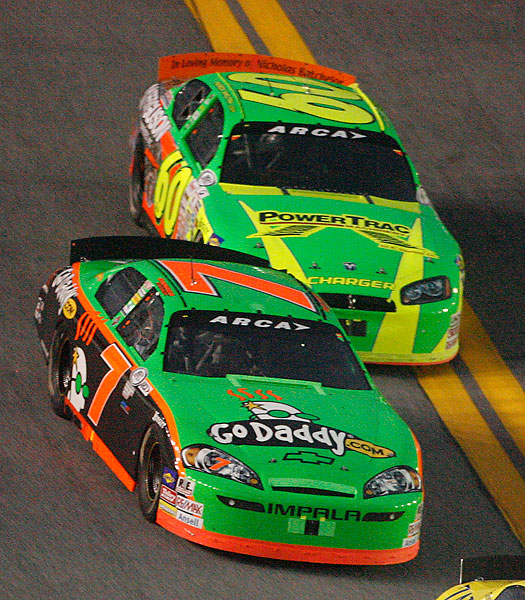 So let's summarize:
Danica gets in a stockcar for the first time ever, shows up at Daytona, and qualifies as the fastest of six women in the field.
She spends most of her day running in the top 6, drafting just fine, not making any real mistakes. Doesn't get caught in the Big One.
Formula One Has-been and cheater, Nelson Piquet Jr, rams her into the grass in the tri-oval. She does one complete spin on the grass, locks 'em up and cranks it inside, keeps the car off the wall. The heavy, hard-to-steer stockcar that many people thought she was too weak to handle.
She pits to replace flat-spotted tires, restarts somewhere around 28th-30th place.
Her crewchief tells her there's only about 20 laps to go, time to give 'er. She puts the hammer down and drafts the hell out of everyone to make it back up to into the top 10.
On the final lap she beats and bangs with Ricky Carmichael, beating him to the line by a couple of inches to claim 6th position.
The woman can drive a stockcar.
But I'm sure the haters will still find some way to link her posing in a bikini to "why she didn't win the race."
In other news, Billy Venturini won his record 6th ARCA Daytona 200--the guy might have a real life strategy going on here: build cars only for super speedways, develop only super speedway engines and aero, show up, dominate everyone, take the cheque home and spend the rest of the year with your family.
Also, Kevin Harvick won a somewhat uneventful Bud Shootout. There was at least some good tussling for the lead between himself, Carl Edwards, Jamie McMurray and Tony Stewart, but as we all know the Bud Shootout doesn't really mean a damn thing about what'll happen in the 500, or for the rest of the year.