Yay, it's time for me to be the typical blogger and recommend books! I won't bother with big drawn out reviews though, I'm not a professional reviewer and I won't waste my time.
First up is Alan Campbell's excellent
Deepgate Codex
, a trilogy that I'm just now finishing up with the third book, God of Clocks.
It has an amazing level of creativity, a real fresh breath in an over-saturated sci-fi/fantasy genre. In a nutshell, it takes place in a sort of alternate human reality, a mixture of magic/fantasy, steampunk and a little sci-fi. Angels and gods are real, and they're fighting a seemingly never-ending war between heaven and hell. Caught in the mix are the Spine Assassin Rachael Hael, and her archon (angel) friend Dill, the supposed hero of the books.
What I like about it is that, much like The Name of The Wind (see below), Campbell manages to have an exciting, thought-provoking story without resorting to cliches. Rachael Hael is constantly second-guessing herself as any sort of warrior at all, let alone a hero... Dill was raised by the church to believe he was a heroic warrior fighting for good, when in fact he was never trained and spends most of the book cowering in fear and not knowing what to do next.
But despite the cover blurbs focusing on Dill and Rachael, it's really more of an ensemble story, with all sorts of memorable characters--my favourite being John Anchor, a huge beast of a man who is eternally tethered to his god's floating ship, forced to drag it around the world.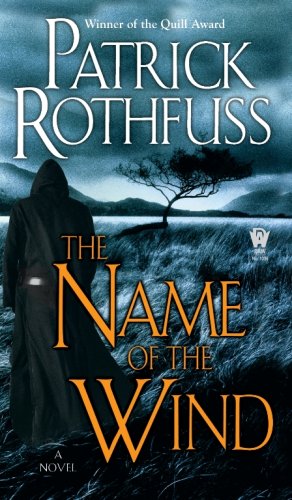 The Name of the Wind
is, quite simply, the best fantasy book I've ever read. Easily on the level of a Tolkein, Patrick Rothfuss has created the very definition of a page turner, one that doesn't even delve that deeply into the story of Kvoth before the book abruptly ends--and you want more, and you want it now.
The characters are richly realized and the settings are vivid, but what makes this work so amazing is how it turns fantasy cliches on their head. At every turn, Rothfuss has us believing the book is heading down the path of "Yet Another Sword of Truth" or "Yet Another Ring of Time" or "Yet Another Lord of the Rings," only to give us an exciting, surprising, and often funny twist. The entire book is based around Kvoth telling his life story, growing up as (basically) a carnie, then being drawn into magic school (including a few jabs at Harry Potter, which I always approve of), falling in love, searching for those who killed his parents, etc etc etc... And while his legend is that of an amazing, unstoppable, all-powerful warrior, the truth comes out in poignant, thought-provoking ways, and we see a much more human, much more vulnerable, and much more BELIEVABLE hero than any in Fantasy before this.
It frustrates me beyond belief that the sequel has been pushed back to April, instead of coming out now... But I don't blame the author. I just eagerly await it. GET. THIS. BOOK.
Also, two good suggestions for motorsports enthusiasts reading this. The first is the biography of Wendell Scott, called
Hard Driving
. The first African-American to play a major role in auto racing in North America, and thus far the only black man to win a NASCAR Cup race, the book tells about his hardships growing up, racing at the local dirt tracks, and gradually clawing his way tooth and nail into Grand National, all the while dealing with obscene levels of racism and segregation, up to and including having his win ignored, only to be awarded it a few days later. The story gives a whole new meaning to the word perseverance.
I would also highly recommend
Crashed and Byrned
, the autobiography of Tommy Byrne, the "greatest racing driver you never saw." An outrageous story of his life growing up penniless in Ireland, clawing is way into victory lane and dominating the lower rungs of open wheel racing on talent alone, and his crushing failure to land a seat in Formula 1. An honest, hilarious and sometimes frustrating look into what makes a racer a racer, and why racing at the world's highest level often has little to do with how good you actually are. The book is laugh-out-loud funny.
I strongly recommend both of these books to any aspiring racer--they both give us a great look into what makes us want to do what we do.