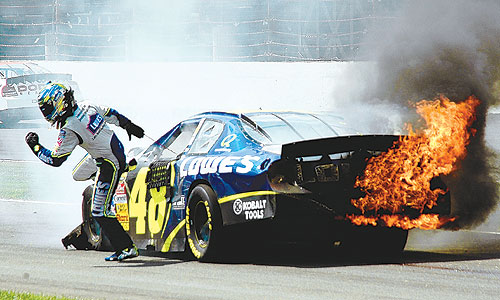 David Caraviello
had a good point on NASCAR.com the other day... Everyone bitches and whines about Jimmie Johnson "always winning" and "dominating." Problem is, Johnson hasn't dominated this season, at all. Tony Stewart did. What Johson's done is dominate the Chase. Every year.
The solution? Caraviello says "Jimmie-proof" the Chase. And he has a point. I will say, coincidentally, virtually very track in the Chase except maybe Talladega are the 48 team's "best tracks." Martinsville, Dover, Fontana and Phoenix in particular, are tracks where The Boring One carries all sorts of records.
It's not like NASCAR has catered the Chase to him on purpose--it wasn't that way the first couple years of the playoff system. Knaus and Johnson are just masters at saving their cards until the end, and building cars and testing specifically for those final ten races. Martinsville in the Spring? Test race for the Chase. Talladega in the Summer? Test race for the Chase. California snooze-fest? Test race for the Chase. Other teams are finally STARTING to realize that the last 10 races are all that really matter, as we see with Martin and Montoya's teams both performing amazing in the Chase too.
But I'd go one step further than Caraviello because, frankly, the Chase layout is a joke. Every track is a challenge to race at--but let's face it, the Chase doesn't have anything in the way of diversity. Loudon, Dover, Kansas, Fontana, Charlotte, Martinsville, Talladega, Texas, Phoenix and Homestead. That's four boring 1.5 Mile Crapovals, three flat short tracks (I consider Loudon and Phoenix short tracks in spirit), Homestead which is also flat and just a bigger version OF those, and then Dover and Talladega. Hell, all four of those flat tracks you can bring the same car to even, and that's probably true of the 1.5 Milers as well.
This is supposed to be a showcase of the 12 best drivers in the world--so why not a little versatility. Which, while we're at it, would also help curb Johnson's dominance. Despite what the announcers would have us believe, Martinsville isn't much of a wild card--if you're in the top 5, you're relatively safe. Jimmie leads hundreds of laps every time they go to Martinsville, so it's not really a "dangerous wild card" for him--lapped cars move out of the way for leaders. It's only dangerous back in the pack.
And where are the road courses? Best drivers in the world indeed--if so, a road course or even two should be in there to really spread it out. Sure Jimmie's got a pole on a road course, but other than a few top fives here and there, he hasn't done a whole lot. A road course would let aces like Montoya, Gordon and Martin make up a little ground on him. IMO, the Chase should basically showcase all five kinds of racetracks, times two (with an exception or two). THAT would make for an interesting Chase.
Here's my kind of Chase:
Circuit Gilles Villeneuve
Michigan
Loudon
Iowa
Martinsville
Charlotte
Sonoma
Talladega
Phoenix
Homestead
Sure, Montreal is a bit of a stretch, but if they don't come up here for a race, fine, then put something like VIR or Barber Motorsports Park in there.
Start the sweep up in Canada, then move to Michigan (as early in the schedule as possible for weather reasons), where Johnson doesn't have a whole lot of success. Then to Loudon, it's a tricky track one way or another. Then to Rusty Wallace's AMAZING track in Iowa, which needs a Cup date as SOON as possible (and it's basically a short track.) Then Martinsville for obvious reasons. Then the Charlotte night race, might as well keep the tradition. Then as it starts to get colder, we head south. First to Sonoma California for the second road course, a place where Johnson is typically hopeless. Then the wild card of Talladega, which needs to be in the Chase for just that very reason. Then another flat track at Phoenix, and then finish up at usual at Homestead.
That's two road courses, two short tracks, two 1.5 mile Crapovals, two weird/unique 1 mile flat ovals, one super speedway and one 2 mile flat track.
Now suddenly you only have Phoenix, Martinsville, and I guess Charlotte where Johnson typically runs REALLY well. And you have the kind of schedule that would be a TRUE challenge to the best drivers in the world.
And don't tell me NASCAR can't do it because of scheduling and sponsorship rights. NASCAR can do whatever the hell it wants with the schedule with enough effort.
DO IT, NASCAR. Show some balls.